There are quite a few options for photo Valentine's Day cards on Print With My Pic, but I have just added 8 new landscape Valentine's Day card templates.  These 2013 Valentine card templates have heart borders, heart photo frames, cute pink and red designs, and the online card makers have some new features as well.  Take a look at 2 of the new designs: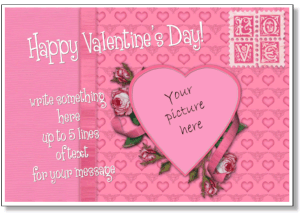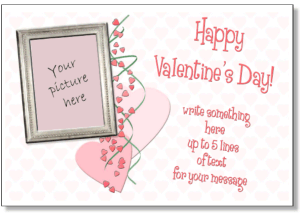 With all of the templates from 
Print With My Pic
you can upload any image directly into the only
Valentine's Day card maker
.  You can then edit your photo in the photo frame to crop the photo, zoom in and make a close up, reduce the size of a really large photo, and even turn the photo to get just the angle you want.
With these new 5×7 Valentine's Day cards there are some new personalized text message features.  you have the option of dragging the text around on the page to design your own layout and feel.  You can change the font and change the colors if you like a lighter or darker message for your Valentine's greeting.  A cool new option is the ability to both change the size of the text and change the angle as well.  So, with the new card maker features you really have a lot of control over your Valentine card design and feel.  You can instantly see the changes on the screen as you make them and so the whole process to make your own Valentine's Day card takes about 2 minutes!
Upload your photo to the card template:
The makers will accept any file.  You can add a picture from your computer or use the URL to a picture you have online.  Either way is fine and the results are the same.  Just remember that the larger the picture, the more time it will take to load, but the larger the picture the better the print quality.
Edit the photo and add your personalized message:
Once you load your photo into the card, you'll see an image editor appear on the same screen.  This will allow you to adjust your photo in the photo cut-out to make the perfect card.  Unfortunately it won't make you better looking.  I've tried many times and … nothing.  But it will make the card more appealing if you can get you photo situated nicely in the Valentine's photo frame.
There is a sample Valentine's Day message on the card.  You can type right over any text you see. You can even use these cards as birthday cards, thank you cards, get well soon cards, birth announcements, anything.  I've just added them to the site as "Valentine's Day cards" but any template can be completely customized for your personal use.
Print your card:
Once you've got everything just the way you'd like it, click the "print" button.  And you're done.  Your Valentine's Day card will come shooting out of the printer!  Just make sure that you've got your paper loaded.  Also if you are making a card that's different from your default printing size, you will need to adjust you printer settings.  It's always best to print a  sample on a plain piece of paper (cut to size) before you use any expensive photo paper or stock paper.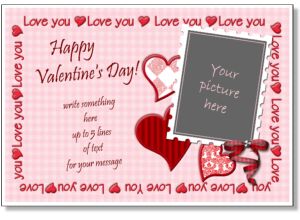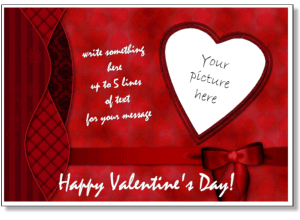 The new Valentine's Day photo borders and Valentine's artwork were submitted to PWMP from a
free digital scrapbooking
site by Wonderland Scraps.  If you like these St. Valentine's Day designs, check out their site for tons of free photo templates to download.
These can make full page cards and even Valentine's Day posters:
The card makers print full to page.  So if you use a 5×7 piece of paper it will size everything down to 5×7.  If you print to a full sheet of paper it will expand everything to the full size of the paper.  If you want to make Valentine's Day posters, these designs will also function as Valentine's Day poster templates.
Play around with the different functions and let me know what you think.  I'd love to hear how your Valentine's Day crafts turn out.
Happy Valentine's Day!