Printable wedding invitation templates, free Save the Date announcements, engagement postcards, personalized thank you cards, response cards, wedding stationery
and more. Add your own picture or photo to the online maker and print all your wedding needs. Personalize all the text in the templates or erase any text and print a wedding announcement with your photo for free. No email registration. No account setup. Nothing to download. A simple, single screen online application and it's free! Enjoy.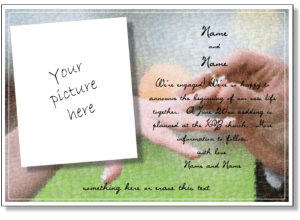 add your photo and edit the text sample to make engagement announcements, thank you cards, engagement party invitations, even wedding invitations. Be creative and add these to other wedding printables or cards.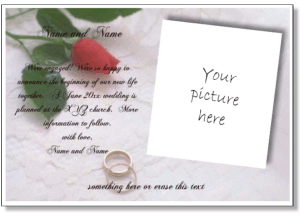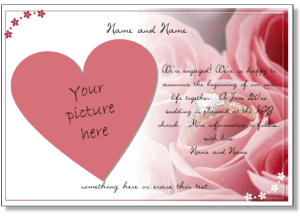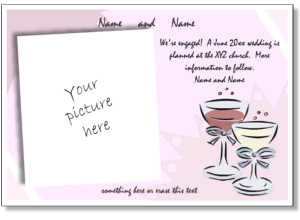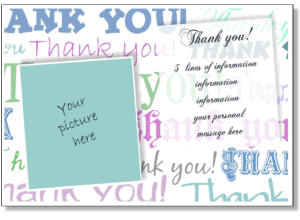 these are general thank you cards that you can add your photo to. Send them with picture of you on your honeymoon or just send a nice personal thank you card with a custom greeting. There are quite a few templates that can be sued for anything. The text is 100% customizable, so these could also be used as "Save the Date" announcements, for example.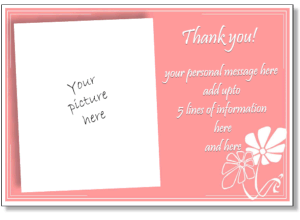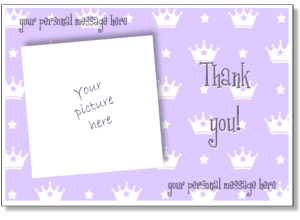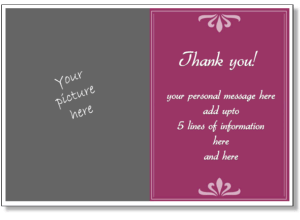 The free announcement makers have some interesting features:
add an image right from your computer or from the Net
manipulate your image in the program so that it fits perfectly
no URL or site markings on your wedding printables
instant previews of your templates
print 5x7, 4x6, A4, B5 - the invitation will format full page
7 different font options for each design
edit any design to make an invitation a thank you card or response card and visa versa.
it's free!
As it states above, the announcements will format full page. So, if you want to make note card sized announcements, 5x7, 4x6, just change your paper size to the size you want and the maker will shrink everything down or up without loss of quality. Unfortunately, with Letter paper size only, you will need to reduce the announcement to 90% in your printer properties, or it will get cut off.
The software runs online on the site's server. You don't need to download anything and since your image is stored temporarily in a private folder, there's no need to register or create an account. (All images are dumped twice a day.)
Do you need large quantities or professional printing services? If so, I recommend Wedding*Paper Divas. They have an awesome selection of wedding stationary and invitations.