Valentines Day cards to print with your picture. Make personalized Valentine's Day photo cards for free online with these templates. For more printables to add your image to check the main page, Print With My Pic

No email registration. No account sign up. Use an image right from your computer! Click on a preview, load your picture, edit the text and hit print. There are buttons to move your image around so it fits just right. Enjoy!
These are envelope templates you can print. If you don't want any text, just erase all of the text, but you can add names, addresses, and a short message to the envelopes.

There is a spot at the top right where you can add a picture as a stamp. If you don't want to do this, just don't upload a picture and spot will be blank. (Hit the "preview" button at the bottom to remove the image uploader from the screen.)

These photo Valentine's Day card makers allow you to
add your own picture to Valentine's Day cards 2019 templates and print
. Edit all of the text in the card to make your personalized photo card. Erase all of the text and you'll have blank photo card templates. Choose from several different card makers and print your own personalized Valentine card. You can also print envelopes for these cards.

For more
Valentine's Day card ideas
, check out the flat Valentine's Day photo card templates in the picture frames section. There are some great Valentine's Day templates that can be used as printable picture frames or as printable Valentine's Day cards.

More Valentine's Day Printables: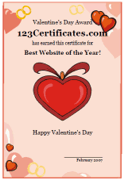 Valentine's Day Certificates You will find 20+ different Valentine's Day certificates that can also be used as party invitations or Valentine's Day cards!
Valentine's Day Flashcards Valentine's Day flashcards, printable games, crosswords, handouts, worksheets, and word searches
Free Valentine's Day worksheets - make reading, writing worksheets, crosswords, word searches, bingo boards, board games, dice, and more! With images!
Valentine's Day Stickers - Valentine's Day stickers and sticker charts
Valentine's Day coloring pages - 25 different coloring sheets with Valentine's images.