About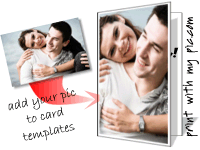 Print With My Pic.com is a website containing online programs to create printable cards, printable calendars, printable invitations, announcements and certificates. As the title suggests, you can add your picture, photo or favorite image right to the templates and print.
The website was built and first came online in January of 2010. It is part of a network of printable sites, MES. I've made quite a few printables sites and the majority for education. However, some of the sites were essentially the seeds for Print With My Pic.
123Certificates is a printable certificate site I first made back in 2006. Followed by MES Cards that went online in 2007. Then MES Calendars in 2009. These sites contain 1,000s of templates for printables but I felt some people (including myself at times) would rather use their own photos, pictures of the kids or favorite sports teams and celebrities. So, I set out to create an easy and quick program people could use to do just that.
Why do it for free?
Well, some people make sites in hopes of making millions. Most of us just hope millions will come and see what we've made.
This is just a hobby. I'm not a graphics designer, programmer or webmaster by trade. I have a day job :) I just enjoy graphic design, programming and building websites. A greater number of people will be able to use the materials and reach out to their friends and family if they are available for free. So, hopefully, that's what will happen. I'm just happy to see the website being visited and the makers being used.
What's the blog about?
The blog is here to explain a bit about the site and what can be made. The programs are pretty simple but a lot can be done with them besides the themes you see listed on the site. I also hope to give users some tips and suggestions on how to make the best printable card, calendars, etc. that they can.
I'll also try to feature a few other great printable sites. I and my wife do quite a bit of craft and printable things around the house and with our kids. There are so many great ideas out there on the Net and I'll share them here as I come across them.
Happy printing,
Mark
Print With My Pic