There is a new Christmas magazine template.  Add a Christmas family photo, Christmas tree pictures, Christmas decorations, kids Christmas photo, or picture from your Christmas party.  Then edit the text on the template, move the article descriptions around to design your own Christmas magazine cover layout and print.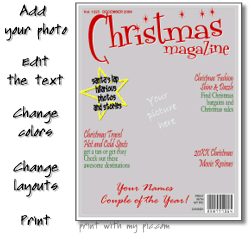 You can use these Christmas theme magazine covers to make holiday magazine covers, fake Christmas magazine cover, printable Christmas party awards, printable Christmas party invitations, or printable Christmas cards.  You can edit everything on the template or remove anything you don't want to use.
Add your photo to the magazine template: Once you open the Christmas template, you'll see the photo upload tool.  1st, upload your picture to the magazine template.  With the free magazine templates, you add a picture right from your computer or you can add any photo off the Net by pasting the URL to the photo.
Edit the Christmas magazine cover photo: Once your image is added into the Christmas magazine template, you can edit the photo in the picture frame to make it look just like a Christmas magazine cover shot.  You can zoom in rotate, crop the photo, and move it around in the photo frame.  You can always go back and edit the photo position, etc. before printing. There is a small button that appears and says "adjust pic".
Design your own Christmas magazine layout: Each of the magazine headlines, artwork, and article descriptions can be edited.  You can change the text color and move the text around on the page as well.  Add a price and bar code, or remove it.  It's best to first move the text around and get the placement you like.  If you move your mouse over the top of the text area, you'll see buttons appear, one is labeled "move me".  By clicking on that, you can drag the text around the page and place it wherever you'd like. There is another option that states "change color". That will give you 6 different color patterns to choose from for you magazine layout.
After you have the text in place, try changing the font colors for the title text and headline texts to see what combination looks best.  You can personalize each of the headlines individually to get a variety of dark and light combinations that will look great over your photo.
Edit the cover headlines: After you have designed your layout and color scheme, go ahead and change any of the verbiage.  You can change the title of the magazine and any of the headlines.  If you don't want to use all of the headlines, just delete any text and they'll be blank on printing.  Erase all of the text fields and you'll have a blank Christmas magazine cover template to print.
Print your photo on a Christmas magazine cover: If it all looks good, hit the print button.  You can also click on the preview button to take a look at the magazine design before printing.  If it all looks the way you'd like, hit print and make a Christmas magazine poster for your wall, photo frame, as a Christmas present, for your locker, or even as a book cover.
Use these free online templates to make mag cover posters and Christmas mag covers for kids to print with a picture of you, your family, or friends.  There are magazine cover templates for other types of magazines as well. For more Christmas printables, see the Print With My Pic Christmas printables guide.  There are Christmas party invitations, Christmas cards to print, Christmas certificate templates, worksheets and other printables.