You can now make full year 2015 calendars and 2015 calendars with your photos and pictures.  With the 2015 calendar templates from Print With My Pic, you now have the option of selecting a full year calendar to print on a single page.

There are simple photo calendar templates you can use with large photo frames, ovals, hearts, and other picture cut-outs.  There are also fun and designer calendar styles to choose from.  Make a simple calendar with your family picture, picture of friends, your favorite movie star, a sports team logo, or maybe just a popular character or athlete.  Any photo or picture will work in the makers.
How to make a 2015 yearly calendar:
First you need to choose the calendar template that you'd like to use.  From the main calendar page, you can select a style that interests you: simple, cute, cool, colorful, holiday, birthday, etc.  The templates will open in a new window and you'll see a photo upload tool on the left-hand side.  You can upload a photo right to the template or use the URL to a photo you have online.  Once loaded, you can edit the picture in the calendar photo frame.  You can zoom in, zoom out, rotate and shift the picture to crop the photo or just to get it to look perfect for your printable desk calendar 2015.
There are two other menu options on the right.  One is a menu called "month".  These makers were originally designed for monthly calendars but the yearly calendar to print feature has just been added.  If you click on the month menu, you'll see the options to make a monthly calendar or select the full-year option.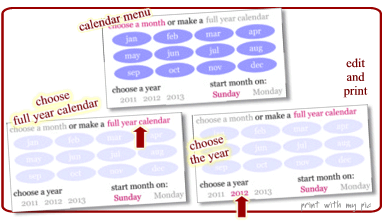 Select "full year calendar".  Then select the year, 2015 for example.  You can then close the calendar menu and you'll see your full year calendar in the template.  You also have the option of a full year calendar with a Sunday start or a yearly calendar with a Monday start.
Making a 2015 photo calendar to print is quick and easy at Print With My Pic.  The templates are all free and online.  There's no registration or downloads required.  If you have any questions or problems, please feel free to contact me any time.