If you are looking for printable pirate birthday party supplies, check out these new pirate theme card templates from MES cards.  You can print a pirate birthday card, make a jolly rogers birthday party invitation or use them as buried treasure cards for a pirate party scavenger hunt.  The card makers from MES Cards let you edit all of the text, adjust the layouts, change the fonts and pretty much make any card you might need.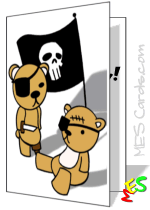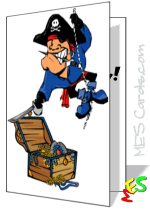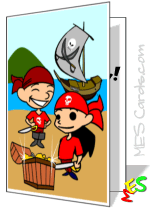 You can make quarter-fold pirate cards or half-fold cards using any of the card templates from MES Cards. With the quarter fold cards, you can add a personalized message inside the card.  With the half fold cards, you'll need to print out the cards and hand write in your own wording. Add fun pirate sayings to your card or make a card using the sample wording as a guide.  You can also print matching envelopes for the cards, personalize the envelopes or just print blank envelopes.  These are a great pirate theme craft you can add to birthday parties and all of the templates are free and available for online use.
The pirate birthday card makers:
When you click on one of the templates, a new window will open.  You'll see your card selection to the right and you'll also see the sample pirate birthday card wording.  You can personalize all of the text inside the card, use your own wording, or delete everything and print blank pirate cards. You can also make changes to the card text directly on the card. So, when you are ready, hit the "OK" button and you'll see your pirate card template and personalized message.  (You can always go back to the card menu by clicking on the menu option at the top left of the card maker.)
Edit your card layout, font, and wording:
Each card has 7 different font options.  At the top of the pirate invitation template, there is an option labeled "change font".  If you click on that, you'll be able to scroll through the different fonts. There are formal fonts, cute fonts, cool fonts and a standard text font.  You should be able to find a font to match your card's desired feel.
When you scroll over the top of any text field, you'll get a message control bar that appears.  This has options like "move me", zoom in, zoom out buttons, and buttons that let you rotate your text to the left or right.  To move the text to a different location or just move it up or down slightly, click on the "move me" button and drag the text to wherever you'd like.  By clicking on the "plus" button you can make the text larger.  By clicking on the "minus" button, you can make the text smaller. Taking advantage of these tools, it's very easy to design your own printable pirate birthday party supplies.
Print a pirate card:
Once you've made all of your changes, you are ready to print.  There is a "print" button at the top of each template.  If you click on that your card should begin the printing process.  Usually, you'll get a print window that opens.  You can choose your printer and how many copies you'd like.  Print as many cards or invitations as you might need. And that's it! Your free printable pirate birthday card will come sailing out of the printer.
Make matching pirate envelopes:
Below each card maker there is a link for the envelope maker.  The printable pirate envelope templates match the cards, but you can print a blank envelope or mix and match designs if you'd like.  There are options for personalizing the envelopes with a name and address, return address and even a message on the back of the envelope.  You have the same font options and text editing features as the card makers.  When you have made your changes, hit the "print" button and you're done!
It's very easy to make a great looking pirate thank you card to print or free pirate theme birthday party supplies.  You can make a card with a pirate, treasure chest, skull and cross bones, jolly rogers flag, girl pirate, skeletons, cursed pirates, pirate symbols, deserted island images and other great graphics to make pirate cards for boys or pirate cards for girls.
If you need any help with the above, or just want to share your own pirate birthday party ideas, please comment below.  I'd be glad to help. There's also another post on making your own pirate printables. I hope your pirate birthday party is a thieving success! Drink up me hearties. Yo, ho!