Add a picture to Father's Day award certificates. Free certificate makers that let you add a picture and print. Use a picture of you, your father, your family, funny photos, whatever! Click on a preview, load your picture, edit the text and hit print. There are buttons to move your image around so it fits just right. Enjoy and Happy Father's Day! (For more printables to add your image to check the main page: Print With My Pic)
Father of the Year - crest
circle, stars, award ribbons
cute stars and stripes, simple
hand in hand, child's hand in Dad's
Dad is king, crowns
"World's Best Dad" award
cool flame pattern
patriotic; red, white, and blue with banner border
Father of the Year certificate
simple and cute
award medals, olive branch emblem
party balloon border
airbrushed flames, bold and strong
black and gold, stars and spears picture frame

For more cool certificate templates check out the Father's Day certificates at 123 Certificates.


Do you need Father's Day cards? I have them in the card section: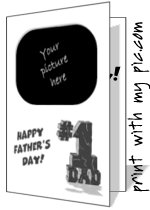 more ...

The awards for Dad, online certificate makers allow you to add photos of your father, kids, the family, and children to the certificate templates and print. Change any of the text fields in the certificate to >make a personalized certificate for your father for "Father of the Year" certificates, "World's Best Dad", "#1 Dad", "Super Dad", "I love my Dad" awards and more. These can be used for Father's Day gifts, printable presents and crafts for Dad. Reward somebody today!