From the Print With my Pic Blog:
Make your own Haunted House sign – Halloween party prop
Make your own Grim Reaper prop
Make your own Treasure Chest – Pirate party prop
How to add your image to the makers
.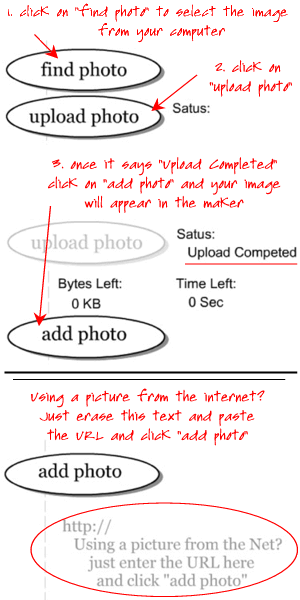 - Each of the makers should load in a new window. Once it loads scroll down and you'll find the image loader tool.
If you are loading an image from your computer,
- click on "find photo" - that will open a browser to search through your computer for the image file.
You can upload image files with the extensions .gif .jpg .jpeg .png and .bmp
- Next click "upload photo" - that will load the photo to a private temporary directory on the server. (The images are dumped from the server twice a day.)
You will get status updates as the image is loading. Once it says "Upload Complete"
- Click "add photo" - this will add the photo to the program and then the photo controller will appear so you can adjust your photo.
If you are using a picture from the internet,
- Add the URL to the gray textbox just below the "add photo" button. Then click "add photo"
* you must delete all of the text in the box and you must give the URL to the image file. It will look something like this http://www.URL Path.com/../image.jpg
How to change the font:
How to use the photo controller: