Making your own props for a play, Halloween display, haunted house, Halloween party or other event can save you a lot of money and you'll get exactly what you want. It saves you time shopping around as well. Here's how I made the spooky tree this year for my Halloween Haunted House display: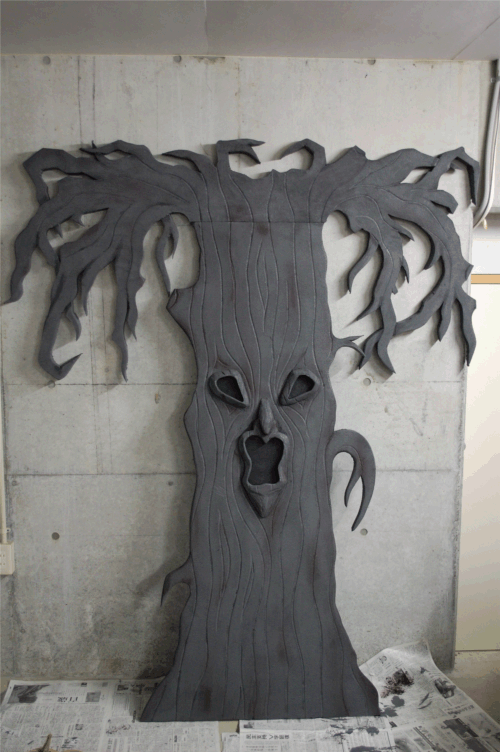 The tree is over 6′ tall and will look great in a Halloween display or inside your house as a great Halloween party prop you can make at home.  You can make this any size, I just wanted a really big and ominous tree.  Here's how to make a creepy tree as a haunted house prop or Halloween decoration:
time: about 3 hours in all (more or less depending on how far you want to go with this)
materials needed:
– base: foam insulation boards, card board, or wood boards
– a box cutter/box knife
– a medium sized paint brush
– water based house paint – gray and black
– sand paper
– 1 magic marker
I like to use foam insulation boards.  You can find these at most DIY stores and home centers.  The foam boards are light for moving around.  They also are easy to cut out, sculpt and sand down.  They are also sturdier than cardboard.  If you want to use cardboard, that will work, too.  Follow the same steps below.  You may want to add some support behind the cardboard for stability.  You can also add paper-mache for more texture and a tree like feel.
cost: varies depending on material and actual size, but $20-40
Steps involved and pictures of the process:
Step one: spooky tree design and template, draw the tree shape and cut it out.
Having an idea of what your tree will look like is important.  You can use my tree template drawing or make your own.  Here are some more spooky tree images you can use as a reference.
When you are drawing these on your base, you can just freehand everything.  The more messed up and wonky the tree is the better.  For the tree trunk just remember that the bottom should be a little wider than the top.  For the tree top and limbs, I found that making them appear to cross at points looks a little better than just drawing out a bunch of single branches.  Also, having them cross creates a stronger and more stable configuration.  See the picture above for a better idea of what I'm talking about.  Below are my two pieces cut out and placed together.  This is an easy way to just make a spooky tree silhouette.
(the second pictures has some pieces coming out to make a 3-D spooky tree.  It's just another option and a way to use any extra materials.)  Using 2 pieces means the top can really branch out and hang down.  You can certainly do this in just one piece, but you might find you need to either give up height or width.
Step 2: add shape, a face (if you want), and texture to the tree
After everything is cut, you should sand the tree down to make the edges smooth.  You can add more small pieces or paper-mache all over the tree to make it bumpy, but I didn't do that.
To add texture to the tree, I used the top of the handle on my paint brush.  Again, this doesn't require any set rules.  I just drew lines down the tree and made them move around any objects like the face or anything else you add.  I ran the handle down the boards pushing in slightly. If you are using cardboard or wood, you can add these later with black paint.
If you want a face, here's what I did.  I first drew a design onto my foam board.  Adding a face by gluing it on gives depth and means less sculpting and shaping with out base.  Then I cut that out and glued it onto the base with wood glue, but any glue will do, or hot glue gun.  Then I cut off the sides at an angle to make it appear that the face was coming out of the tree, rather than just sitting on it.  See images below and above.
Step 3: paint your tree
I painted the tree a dark gray first.  You could stop there and your tree will look great.  You could also use flat black, but I think the gray looks better.  If you want to add more depth and feel to your tree, try shading it a bit as you see below.  I added some black to the grooves I made for the tree grain. That gives them more depth.  I also brushed the sides with black to make them appear to be further back and that makes the tree look more round.  For any branch crossing or where they come out, I shaded with a little black paint.   I added a little back around the face parts as well.  I also brushed on some dark brown in sections just to add another color.  For the inside of the mouth and eye, I just painted them black so it looks more like holes in the trees.  It also adds more depth to the over all project.
I find it's best to do this while the first coat of gray paint is still wet.  this way the colors and shades you are brushing on mix a little better and fade into the others.
Step 4: put it together and place it in a Halloween scene
One more time, here's the scary tree prop all completed and I actually made 2 scary tree props :D
Good luck with your Halloween decorations and I hope you party or holiday is a success!