I made a haunted house for my Halloween party last year, facade, entrance, accessories, maze, decorations, the whole deal.  Making the coolest haunted house in town is pretty easy to be honest.  The haunted house below was primarily made with gray fabric, a magic marker, styrofoam, glue, and a little house paint.
Haunted house ideas for decorations – make your own spooky facade
This is a great way to transform a garage into a haunted house or make a room of your house into a haunted house walk through for your Halloween party guests. To make the walls for the outside of the haunted house, I used strips of gray fabric.  With a black magic marker, I drew horizontal lines across the fabric, added what would appear to be wood grain and technically you're done.  I did add some broken board type artwork and peering eyes, but that's up to you.
If you want to read a more detailed explanation on how to make a haunted house facade, check that blog post.  You could stop here, but the blog post also goes into how I shaded the fabric with black paint and how to make a simple doorway.
Haunted house idea for exterior decorations – add spooky trees and a cemetery fence
I made the cemetery fence posts and wrought iron fence in about 3 hours.  The fence posts were made out of foam insulation boards and gray house paint that you can find at most DIY or home improvement stores.  The fence was made with black PVC pipes and black wire.
Taking the foam board, you can cut it into strips.  I layered the strips to make what looks like stone fence posts.  It's much faster if you don't have to "carve" or "etch anything.  So instead of carving a design into the foam, I carved some pieces to glue on.  You can see sample text for a cemetery fence in the final photo above.  All of the pieces were glued together with wood glue and then painted with gray water-based house paint.
To make the fence post props, you just need to cut up some PVC pipes for the size that you'd like.  My fence had two horizontal crossbars and five vertical fence posts.  I placed them on my floor in the design you see in the center picture.  Then, using black wire I tied the posts down in their positions.  You can adjust the positions after you have secured them.
For a full explanation with more detail on steps and adding haunted house accessories to your scene, check out these two posts: spooky tree Halloween prop, how to make graveyard fence posts and how to make a graveyard fence.
Make a Haunted House Sign – how to make an old creepy sign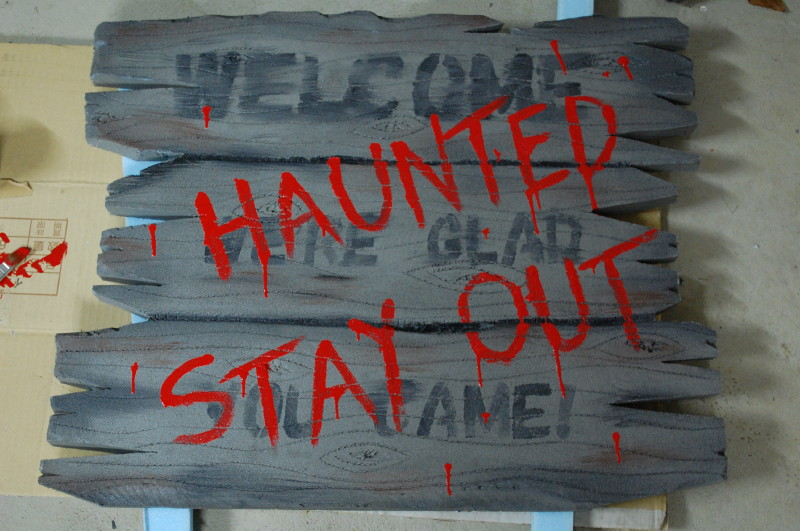 Using just a piece of foam board or real scraps of wood, you can make a great looking sign to hang outside your haunted house or use the sign to direct trick-or-treaters down  a certain path. The sign above took about 1 hour in all to make. Starting with the foam insulation board, I sectioned out the sign, added wood grain using a screw driver, and painted the whole thing gray. Once it was dry, I used some bright red paint to paint my haunted warning. Another idea is to use paint that glows under a black light.
For a full explanation, check out the post on how to make a halloween sign.
Make a Grim Reaper – Add a guard to your haunted house
Using some black fabric, PVC pipes and a little chicken wire, you can make a menacing figure to sit next to a doorway or somewhere inside the haunted house. It took a little over an hour to construct. You can add accessories like a skeleton hand, lantern and scythe. Adjusting the length of the PVC pipe, make it as tall as you need. Check out the post on how to make a Grim Reaper for full details.
Haunted house ideas – How to make a haunted house maze or walk-through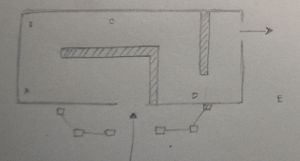 I spent a long time trying to figure out how to make a simple and kid-safe haunted house maze.  I wanted something sturdy, easy to assemble and something that didn't create a lot of trash in the end.  So, you can see why it took me a while.
In the end, the answer was 2×4 pillars and 1×4 braces.  It seemed like it would be a ton of work but in the end, it was very quick, simple, sturdy and above all ours ended up "kid-safe".  Well, they all survived to tell the tale, anyway.
We used 1x4s across the top and on the sides for stability.  I had one L section and a floating wall that you can see in the diagram above. I connected the two sections with a board across the top and so everything stood strong and supported itself.  Different from the design you see above, I added two "doorways" by using another pillar and top crossbar.  That increased the overall stability and gives you a place to hang things, like a curtain, spider webs and even just a secure fixture for black lights or Halloween lights.
To make the frame into walls, we used black farming plastic.  It's super cheap, but you can use anything you can find.  Use an old plastic Halloween scene setter for example. The inside of your haunt should be dark and most likely no one is going to notice what the walls looked like.
This is just a suggestion and above all, think safety first.  Each environment is different and I have no idea how destructive your guests can be.  The maze can never be to secure or too sturdy.  Please use your best judgment, get advice from friends and you can certain run ideas by me by commenting below.
Another thing to think about is overall height.  In the end the cross bars were just over 6′.  If you are expect a basketball team, you might want to build it a little taller.  In general it's good to have someone at the entrance reminding you victims, I mean guests, not to run, push, kick, fight, etc. until they are out of the haunted house, preferably not until they are down the street on someone else's property :D.
That ought to get you off to a good start with making your own haunted house, but if you have any questions about how I made something or just want more information on accessories and haunted house decorations, please leave a comment below.  I'll be happy to explain more about how I made my Halloween props if people are interested.
Happy Halloween!